NEW!
SCHOOL CHILDREN SPONSOR SAND DUNES AREAS IN THE MUNICIPALITY OF MARBELLA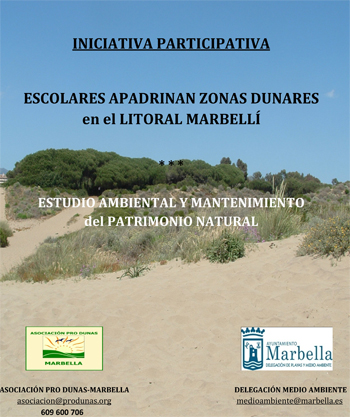 Pro Dunas launched a new, innovative and pioneering initiative:
School children are to sponsor sand dunes areas in the municipality of Marbella
, an idea which is being very well received by the different Schools in Marbella, which have been contacted by us personally and individually.
To ease the participation of several elementary and secondary schools, Pro Dunas have divided all the sand dunes areas east of Marbella in 12 sectors. Appointing a school to each specific sector will enable the study of the biodiversity of the dunes "in situ" and help foster a greater awareness of the Natural Values that exist in Marbella.
This new venture of the Pro Dunas Association enjoys full support from the Department of the Environment of the Hon. Town Hall of Marbella and the Regional Ministry of the Environment of the Regional Government, the Junta de Andalucía.
Through the educational involvement of the Schools and the Natural Sciences course, school children partake in the enjoyment of the privilege it is to have at hand a unique wealth of flora and fauna in the sand dunes settings of Marbella.
Do you want to receive our newsletter?
Do you want to become a member or be our friend of the dunes?
Asociación ProDunas Marbella
The Association works tirelessly for the defence and preservation of the unique ecosystems that survive in the natural sand dune environments in the Province of Málaga; promotes the protection of native flora and small wildlife; promotes recovery, rehabilitation and conservation of interesting biodiversity of sand dunes areas in the municipality of Marbella.