A NEW PROJECT IS BORN: PRESERVATION AND CONSERVATION OF THE SAND DUNES "ALICATE"
ON THE BEACH OF ALICATE, MARBELLA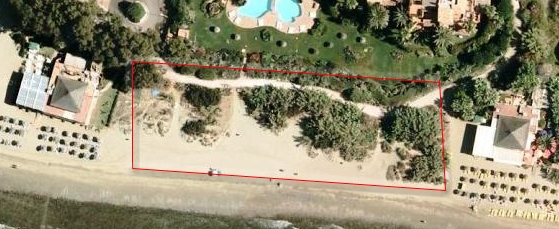 Within the framework of the protection and preservation of the sand dunes areas in the municipality of Marbella, the Pro Dunas Association have submitted to the relevant authorities a new project for the rehabilitation and conservation of the "Alicate" sand dunes on the Alicate beach, flanked by the beach restaurants "Los Cano" and "Los Sardinales".
This sand dunes area belongs to the habitats of interest to the European Union, code 2120, so it is essential to preserve it, and maintain it as a new added value for the Natural Heritage of the municipality of Marbella. Currently there is substantial sand dunes degradation due to the invasion of the reed (Arundo donax) that has completely displaced the native flora. This new initiative of environmental conservation includes several projects to be undertaken:
– Total eradication of all alien invasive plants and subsequent reforestation with native young seedlings to rehabilitate the sand dunes physiognomy, with the technical support of the Provincial Office of the Environment and the Hon. Town hall of Marbella.
– Fencing of the sand dunes with a wooden fence with pedestrian access to the beach from the surrounding residential areas, to prevent the deterioration of the sand dunes due to unauthorized motorized traffic and human pressure.
– Setback of the drainage towards the area of the Transit Easement between the streams "Siete Revueltas" and "Alicate" in order to be awarded the tourism excellence award for this area and given priority by the County Council and Association of Municipalities of the Western Costa del Sol.
– Information Posters as a means of promoting awareness among beach users.
– Facilities for beach users: Lifeguards station and Civil protection – WC – showers – access ramp for the disabled and so on.
This is an ambitious project with all the novelties it involves aimed at improving the area of Alicate for beach users, and we trust it will be fully supported by all the relevant Authorities as well as the Town hall of Marbella.
Do you want to receive our newsletter?
Do you want to become a member or be our friend of the dunes?
Asociación ProDunas Marbella
The Association works tirelessly for the defence and preservation of the unique ecosystems that survive in the natural sand dune environments in the Province of Málaga; promotes the protection of native flora and small wildlife; promotes recovery, rehabilitation and conservation of interesting biodiversity of sand dunes areas in the municipality of Marbella.