WOODEN RAILINGS PROTECT THE SAND DUNES AREA "LA VÍBORA" IN ELVIRIA, MARBELLA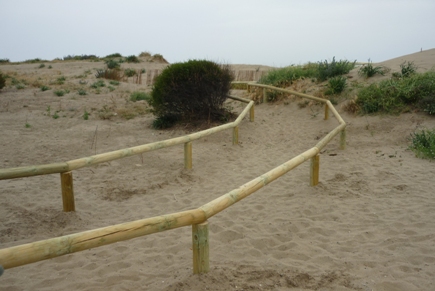 The Andalucía-Mediterráneo Coastal Demarcation Authorities have fulfilled their commitment to fence in the sand dune "La Víbora" in Elviria, and by these measures, contributing to the protection of eco-systems in recovery.
The wooden railings not only aesthetically highlight the character of the sand dunes, but above all help preventing the entry of motor vehicles such as Quads and motorcycles.
Within the sand dune "La Víbora", four pedestrian walkways lead the way to the beach, and encourage the public to refrain from walking all over the dunes, given the fragility of newly planted seedlings.
These actions aim to raise awareness of the public, that their assistance is needed to ensure a peaceful growth of the vegetation in the coming years.
Everyone's cooperation is essential for the recovery, the growth and evolution of a new habitat to become a reality.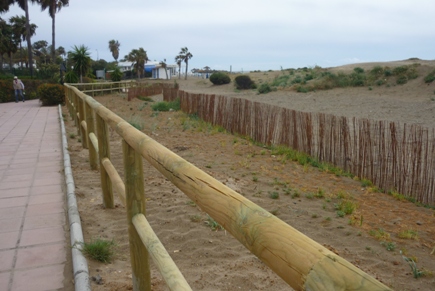 Do you want to receive our newsletter?
Do you want to become a member or be our friend of the dunes?
Asociación ProDunas Marbella
The Association works tirelessly for the defence and preservation of the unique ecosystems that survive in the natural sand dune environments in the Province of Málaga; promotes the protection of native flora and small wildlife; promotes recovery, rehabilitation and conservation of interesting biodiversity of sand dunes areas in the municipality of Marbella.