ERADICATION OF INVASIVE EXOTIC PLANTS AND RESTORATION OF THE COASTAL HABITAT IN THE MUNICIPALITY OF MARBELLA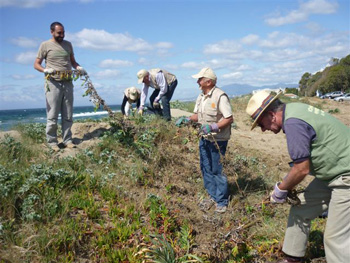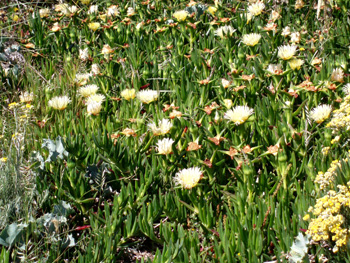 The dunes area of Bahia de Marbella as others east of the Municipality of Marbella are starting to be acknowledged as an "
asset to be protected
" and deservedly so, by the different Authorities. To this end, we have joined the efforts of of the Regional Ministry for the Environment and the Town Hall of Marbella under the active collaboration of our Association.
Jointly we have developed a support work interventions program, necessary as it goes beyond the capacity of our Association due to the volume of vegetation and which the Association had been demanding for a long time. These works will be carried out during the month of April with the task of re planting over 2000 young plants.
In a second phase, once approved by the General Management of Natural Environment, the works for the building of the wooden structures will start to give better protection to the surrounding areas, such as:  floating footbridges, Texan wooden fence, enclosures, etc. The aim is to provide better protection in order to favour the growth of the natural indigenous vegetation in this environment.
We are thankful to the two Bodies for their involvement in these initiatives to support this unique place, worthy of being preserved for ever.
Do you want to receive our newsletter?
Do you want to become a member or be our friend of the dunes?
Asociación ProDunas Marbella
The Association works tirelessly for the defence and preservation of the unique ecosystems that survive in the natural sand dune environments in the Province of Málaga; promotes the protection of native flora and small wildlife; promotes recovery, rehabilitation and conservation of interesting biodiversity of sand dunes areas in the municipality of Marbella.