STARTING THE WORKS AT "EL BARRONAL DE LA MORENA" – Las Chapas/El Rosario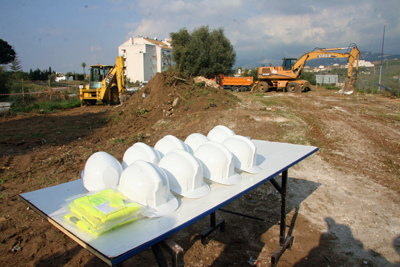 Regarding the start of the upgrading works and improvements on the top of the area of this macro-project, our Association has held a meeting with the Town Planning management of the City Council of Marbella, in order to dispel any doubts about our claim to save approximately 25.000m2 of this beautiful dune with highly valuable vegetation from being developed.
The Town Planning office assures us that the project is fully consistent with all that was agreed in the many meetings held with the City Council during the winter-spring 2009-2010 and the promises of the other authorities involved. Therefore, approximately 1/3 of sand dune vegetation remains safe of any development. In the lower area, the Coastal Demarcation Authority have defined the Maritime and Terrestrial Public Domain (D.P.M.T.) by means of boundary stones and the pedestrian path (6m) by means of "windchaser".
We trust our politicians and we hope we do not have to mobilize protests during the future development works.
Do you want to receive our newsletter?
Do you want to become a member or be our friend of the dunes?
Asociación ProDunas Marbella
The Association works tirelessly for the defence and preservation of the unique ecosystems that survive in the natural sand dune environments in the Province of Málaga; promotes the protection of native flora and small wildlife; promotes recovery, rehabilitation and conservation of interesting biodiversity of sand dunes areas in the municipality of Marbella.