LETTER OF ACKNOWLEDGEMENT FROM THE REGIONAL MINISTRY FOR THE ENVIRONMENT AND "AULA DEL MAR"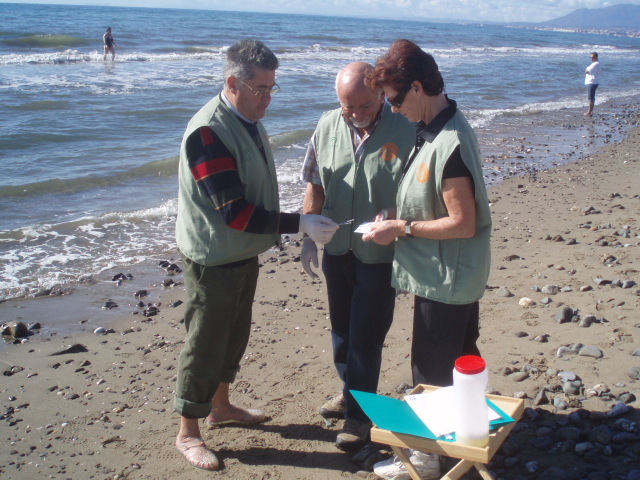 To the
Pro Dunas  Association
, for taking part year after year in the programs:
Coastwatch "Cuidemos la Costa", which we extend to all our "friend of the dunes".
During the "Coastwatch" days, which take place on the same date on all European Coastal Areas, projects for participation and environmental education are developed, with the objective to:
Promote the care and protection of the coastline and the marine environment, through participatory acquisition of information on the environmental conditions along the coastline.
These campaigns would not be possible without the volunteers that participate freely, selflessly and without compensation, dedicating part of their time to the improvement of the environment.
Therefore, the Regional Ministry for the Environment and the Technical Secretariat acknowledge our loyalty and devotion as also our dedication to this project that after seven years in operation with all kinds of associations, helps to analyze the environmental conditions of our coastal area, through the collection and analysis of data.
The following data reflect the participation in the October 2008 campaign:
| | | | |
| --- | --- | --- | --- |
| | Málaga | Granada | Almería |
| Associations | 14 | 5 | 6 |
| inspected kilometres | 45 km | 12,5 km | 51,5 km |
Do you want to receive our newsletter?
Do you want to become a member or be our friend of the dunes?
Asociación ProDunas Marbella
The Association works tirelessly for the defence and preservation of the unique ecosystems that survive in the natural sand dune environments in the Province of Málaga; promotes the protection of native flora and small wildlife; promotes recovery, rehabilitation and conservation of interesting biodiversity of sand dunes areas in the municipality of Marbella.