PEDESTRIAN WOODEN PATHS ALONG THE DUNES "LA ADELFA" OF BAHÍA DE MARBELLA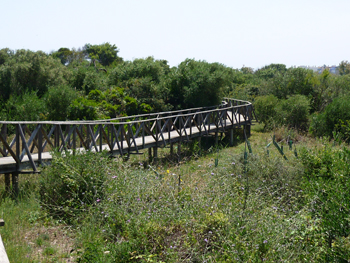 According to the information we received from the
Coastal Demarcation Andalucía-Mediterráneo Authorities
and the
Provincial Department for the Environment
the fragile eco-systems of the dunes in Bahía de Marbella will finally be protected this coming summer by the installation of pedestrian wooden bridges that will enable to promenade along the dunes "La Adelfa" of Bahía de Marbella, as well as ease the pedestrian access to the beach, blocking all motorized traffic. With these measures, the survival and preservation of the flora and wildlife of these valuable dunes area is guaranteed, promoting the free and spontaneous development of the valuable indigenous flora.
With this environmental recovery project that had been promised years ago, will culminate the multiple and continuous efforts of our Association to enlist the support from the Administrations for the preservation of one of the last dunes area. Its valuable eco-systems were recovered thanks to the continuous work carried out by the members of the Association and the hard work in raising the awareness of the citizens that enjoy the privilege of wandering through these dunes of outstanding beauty.
It is everyone's task to preserve and protect nature and it represents an exceptional value for the Municipality of Marbella.
Do you want to receive our newsletter?
Do you want to become a member or be our friend of the dunes?
Asociación ProDunas Marbella
The Association works tirelessly for the defence and preservation of the unique ecosystems that survive in the natural sand dune environments in the Province of Málaga; promotes the protection of native flora and small wildlife; promotes recovery, rehabilitation and conservation of interesting biodiversity of sand dunes areas in the municipality of Marbella.