SCHOOL STUDENTS – USING SISAL ROPE – LINK UP WOODEN STAKES IN THE DUNE AREAS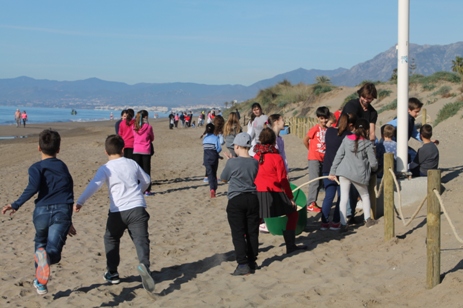 64 school students from the Platero school, Las Chapas-Elviria, enjoyed a new experience during a Dune Sponsorship Day.
With great enthusiasm and in a real hands-on manner they worked together to link up 195 wooden stakes which will protect the perimeter of the "La Víbora" dune in Elviria.
The initiative which is the driving force behind Pro Dunas is paying off, thanks to the private sponsors who made it possible. From here we would like to thank them.
However, so that we can continue the work in the other dunes and for the initiative to be successful we need the involvement of new sponsors. We appeal for private participation from residents, hotels, Neighbourhood Associations or Communities of Owners. The survival of the dunes depends on us.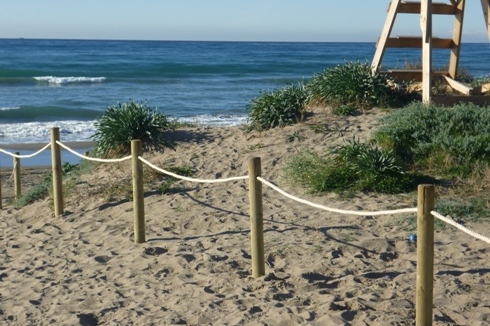 Do you want to receive our newsletter?
Do you want to become a member or be our friend of the dunes?
Asociación ProDunas Marbella
The Association works tirelessly for the defence and preservation of the unique ecosystems that survive in the natural sand dune environments in the Province of Málaga; promotes the protection of native flora and small wildlife; promotes recovery, rehabilitation and conservation of interesting biodiversity of sand dunes areas in the municipality of Marbella.