CONGRATULATIONS FROM THE MAYOR AND ACKNOWLEDGEMENT OF THE HON. TOWN HALL OF MARBELLA TO THE ASOCIACIÓN PRO DUNAS 
XVII AWARD ANDALUCÍA ENVIRONMENT, "NATURAL VALUES OF ANDALUCIA" 2012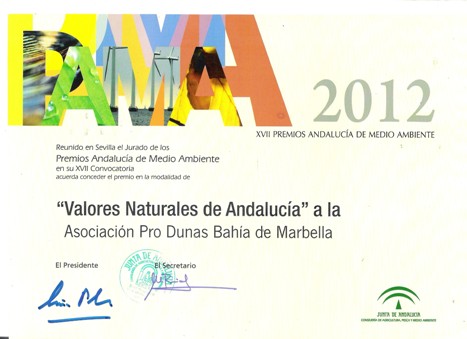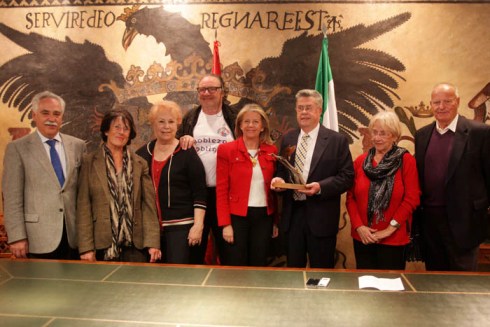 Mrs. Angeles Muñoz Uriol, Mayor–President of the Hon. Town Hall of Marbella has convened a grand ceremony to congratulate in person the President, Mr. Fernando Piquer Villarroel and express the public recognition to the Asociación Pro Dunas, for the great work undertaken by our Association in defence of the
"Natural Values"
in the Municipality of Marbella.
Every congratulation and recognition by the Council of Marbella fills us with joy and pride. With thanks and enthusiasm, we hope to continue to rely on the active collaboration from this Council, so that all environmental values existing in the Municipality are renowned for their interesting biodiversity in their varied ecosystems.
The wealth of this natural heritage of Marbella, is worth being enhanced through Awareness Days organized for the general public and residents in Marbella, as well as scheduled guided tours provided by our Association, and offered to foreign tourists who demand options connected to nature, not just "sun and beach".
Being at the forefront of time, we can spark interest for sand dunes environments and native vegetation.
Do you want to receive our Newsletter?
Do you want to become a member or be our friend of the dunes?
Asociación ProDunas Marbella
The Association works tirelessly for the defence and preservation of the unique ecosystems that survive in the natural sand dune environments in the Province of Málaga; promotes the protection of native flora and small wildlife; promotes recovery, rehabilitation and conservation of interesting biodiversity of sand dunes areas in the municipality of Marbella.