ACTIVE SUPPORT FROM THE MACRO-COMMUNITY OF BAHIA DE MARBELLA FOR THE CLEANING TASKS IN THE DUNES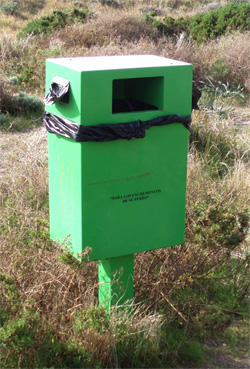 Our Association welcomes with great satisfaction the pleasant and warmly applauded as well as long-awaited support and collaboration from the Macro-Community of the Urbanization Bahia de Marbella.
The cleaning team will include as part of its duties the weekly supervision of the 3  "Sanecan' containers located in the dunes, as well as change the pet droppings collection bags, and the individual small bags that are available to those walking their dogs so they can collect the droppings of their pets.
We are thankful for and value positively the support of the Macro-Community and their willingness to collaborate with our Association in keeping clean the dunes of Bahia de Marbella.
From our side, we continue to appeal to dog owners for their active cooperation, so the dunes do not deteriorate due to dog droppings, as it is detrimental for the growth of wild vegetation.
-Our wish is that the dunes area can continue to be enjoyed by everyone –
Do you want to receive our newsletter?
Do you want to become a member or be our friend of the dunes?
Asociación ProDunas Marbella
The Association works tirelessly for the defence and preservation of the unique ecosystems that survive in the natural sand dune environments in the Province of Málaga; promotes the protection of native flora and small wildlife; promotes recovery, rehabilitation and conservation of interesting biodiversity of sand dunes areas in the municipality of Marbella.