BRIDGE OVER THE REALEJO STREAM
to unite the Reserve de los Monteros and Bahia de Marbella urban developments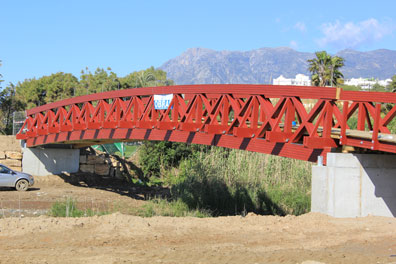 The Pro Dunas Association urges the Marbella Town Hall to commence negotiations with all the public authorities involved in the
coastal path
to plan and install a
bridge
over the Realejo stream to unite the future pedestrian walkway, between the Reserve de los Monteros and Bahia de Marbella urban developments.
Without a bridge, the public would have to leave the pedestrian walkway, go down to the beach, cross the stream and return to the walkway to continue their walk. Pro Dunas demand that no one has to swap their shoes and can avoid falling into the stream.
Pro Dunas demands this bridge over the Realejo stream as that afforded to the other 2 bridges over the Rio Real and 7 Revueltas streams. In the rainy season all the rivers to the east of Marbella carry the same flow of runoff water from the mountains. All members of the public deserve to be able to have an uninterrupted walk or bicycle ride between Marbella and Las Chapas.
Do you want to receive our newsletter?
Do you want to become a member or be our friend of the dunes?
Asociación ProDunas Marbella
The Association works tirelessly for the defence and preservation of the unique ecosystems that survive in the natural sand dune environments in the Province of Málaga; promotes the protection of native flora and small wildlife; promotes recovery, rehabilitation and conservation of interesting biodiversity of sand dunes areas in the municipality of Marbella.