WORK UNDERWAY FOR THE REHABILITATION AND PRESERVATION OF MARBELLA'S COASTAL SAND DUNE AREAS
DUNE "LA VÍBORA", ELVIRIA
DUNE AREAS "RÍO REAL-RESERVA DE LOS MONTEROS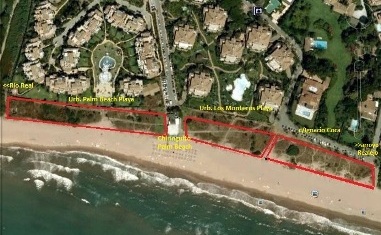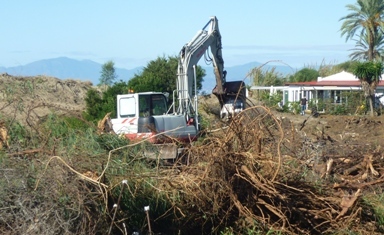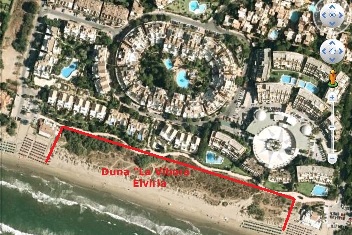 We may all feel great satisfaction for this first big step towards a real and effective preservation of the last sand dune areas in the municipality of Marbella: the rehabilitation and preservation work underway in the above mentioned sand dunes.
The Ministry of the Environment through the andalusian Coastal Demarcation office are the Authorities that have set underway this much expected and yearned for work that our Association have been demanding for years. As known, every year the Association is carrying out environmental education programs in the sand dune areas of Marbella, working with the Hon. Town Hall of Marbella and with Marbella's and other regions high schools pupils through days of eradication of the invasive alien plants, the Highway Ice plant (Carpobrotus edulis).
Reeds and Coojong (Acacia Saligna) are invading the sand dune areas with great virulence, which exceeds the capacity of our Association. Therefore, the support of the relevant authorities with machinery is necessary to rehabilitate the natural vegetation and then carrying out a programme for replanting native seedlings (3.000), once the rainy season starts, to ensure the survival of this flora.
Wooden railings and pedestrian walkways to the beach will highlight the sand dune nature and ensure the survival of these beautiful sand dunes.
These projects now underway are a living example of the rehabilitation that will be carried out in the remaining sand dune areas that we are demanding to be preserved and protected, between Marbella and the Natural Monument "Artola" in Cabopino.
Do you want to receive our newsletter?
Do you want to become a member or be our friend of the dunes?
Asociación ProDunas Marbella
The Association works tirelessly for the defence and preservation of the unique ecosystems that survive in the natural sand dune environments in the Province of Málaga; promotes the protection of native flora and small wildlife; promotes recovery, rehabilitation and conservation of interesting biodiversity of sand dunes areas in the municipality of Marbella.