PEDESTRIAN BRIDGE OVER THE "7 REVUELTAS" CREEK IN EL ALICATE, Marbella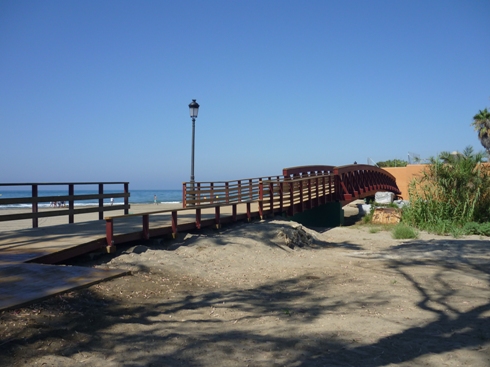 Summer is here and the holiday makers have become aware that the first part of the improvement works in El Alicate have been completed, namely a bridge crossing the "7 Revueltas" creek, making it easier for pedestrian to walk along the shoreline of Marbella.
Thus, the walkway to be built on both sides of the bridge has now become a reality that will be completed as soon as Authorities can provide solutions to current and serious existing impediments.
Our Association have a close relationship with the Hon. Town Hall of Marbella, the Coastal Demarcation Authorities and the Territorial Delegation of the Regional Ministry of Agriculture, Fisheries and the Environment for the rehabilitation of the small sand dune "El Alicate" between the beach restaurants "Los Canos" and "Los Sardinales".
This sand dune is included in the project that our Association submitted to the various Administrations in a dossier that involved a very thorough research.
Pro Dunas have been working tirelessly for nearly 10 years, to ensure that Authorities implement the proposed projects in the shortest time possible. Delays are therefore not the responsibility of our Association.
Do you want to receive our newsletter?
Do you want to become a member or be our friend of the dunes?
Asociación ProDunas Marbella
The Association works tirelessly for the defence and preservation of the unique ecosystems that survive in the natural sand dune environments in the Province of Málaga; promotes the protection of native flora and small wildlife; promotes recovery, rehabilitation and conservation of interesting biodiversity of sand dunes areas in the municipality of Marbella.