PEDESTIRAN BRIDGE OVER THE RÍO REAL CREEK AND PEDESTRIAN WALKWAY ALONG THE DUNES AREA "PALM BEACH" – URBANISATION RESERVA DE LOS MONTEROS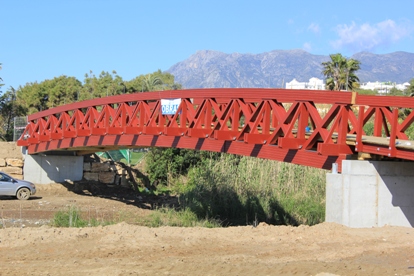 Slowly but surely, the Town Hall of Marbella is linking the various beaches east of Marbella.
The novelty is the placement of a pedestrian bridge over the Río Real creek and the pedestrian walkway starting from Río Real-Reserva de los Monteros which will reach the sand dunes area of the Don Carlos-Marriott in Elviria.
With these improvements, the City Council intends to facilitate the walks along the seashore so that passers-by can enjoy nature, along the borders of the sand dunes areas.
There is a second bridge that will cross the "Siete revueltas" creek in Alicate, giving continuity to the promenade.
We are very pleased that Marbella is not only known as an investment and financial spot or for its outrageous over-development, but also for an alternative on offer: bringing nature closer to the public.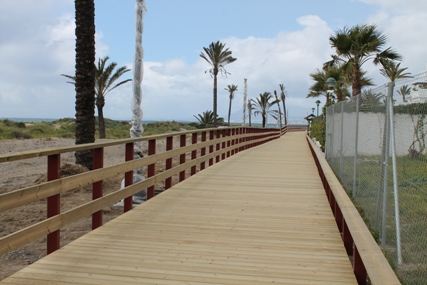 Do you want to receive our newsletter?
Do you want to become a member or be our friend of the dunes?
Asociación ProDunas Marbella
The Association works tirelessly for the defence and preservation of the unique ecosystems that survive in the natural sand dune environments in the Province of Málaga; promotes the protection of native flora and small wildlife; promotes recovery, rehabilitation and conservation of interesting biodiversity of sand dunes areas in the municipality of Marbella.