16th August – 36º38'083N / 043º23'149W
RELEASE OF 5 SEA-TURTLES "BOBA"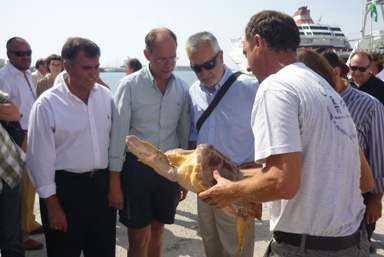 Our Association has had the privilege to be invited, as the only Association, to participate in the release of 5 sea-turtles (Caretta caretta), having spent several months in captivity at the "Aula del Mar" recovering from multiple injuries.
This event has had the valuable presence of the political leadership of the Regional Government of Andalucia, with the participation of the president of the Junta de Andalucia, José Antonio Griñan, the Regional Minister for the Environment of the Junta de Andalucía, José Juan Díaz Trillo, the Provincial Delegate of the Environment, Francisco Fernández España, as well as the Delegate of the Regional Government of Andalucia, Remedios Martel Gómez, among other politicians.
It is always moving to see the joy at the moment of the release of turtles or even dolphins and how fast they want to return to their natural habitat. The release of any cetaceans or turtles is the source of great satisfaction for those involved in their recovery while in care.
Turtles are under high threat by various causes such as the destruction of their habitat, pollution and fishing nets, and so forth. Their survival depends on all of us.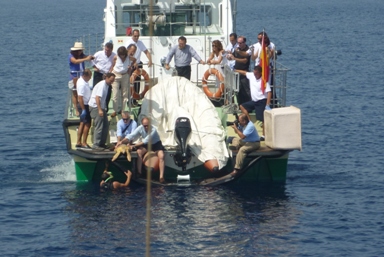 Do you want to receive our newsletter?
Do you want to become a member or be our friend of the dunes?
Asociación ProDunas Marbella
The Association works tirelessly for the defence and preservation of the unique ecosystems that survive in the natural sand dune environments in the Province of Málaga; promotes the protection of native flora and small wildlife; promotes recovery, rehabilitation and conservation of interesting biodiversity of sand dunes areas in the municipality of Marbella.