DAY OF CLEANING UP AND ERADICATION OF THE INVASIVE PLANT
Highway Ice Plant / Red Hottentot (Carpobrotus edulis), in the dunes of Bahia de Marbella, Marbella
21st August, 2008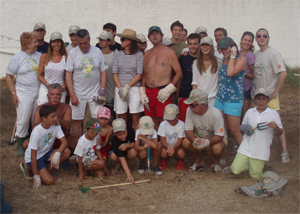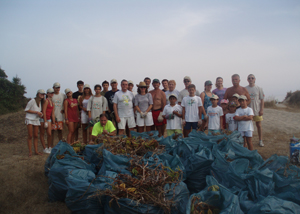 Once more summer, the Association has called upon its Members and nature lovers to participate in the cleaning up works for the eradication of this invasive plant, to protect the indigenous flora of the dunes.
The participation has been massive and with great enthusiasm, from children, teenagers, and adults alike; all took part in this task with great joy. In a very short time we had filled up over 40 big sacs, clearing up a wide surface on the dunes, so the indigenous flora may thrive again.
We thank most heartily everyone for their participation, in all solidarity, in this event.
Do you want to receive our newsletter?
Do you want to become a member or be our friend of the dunes?
Asociación ProDunas Marbella
The Association works tirelessly for the defence and preservation of the unique ecosystems that survive in the natural sand dune environments in the Province of Málaga; promotes the protection of native flora and small wildlife; promotes recovery, rehabilitation and conservation of interesting biodiversity of sand dunes areas in the municipality of Marbella.