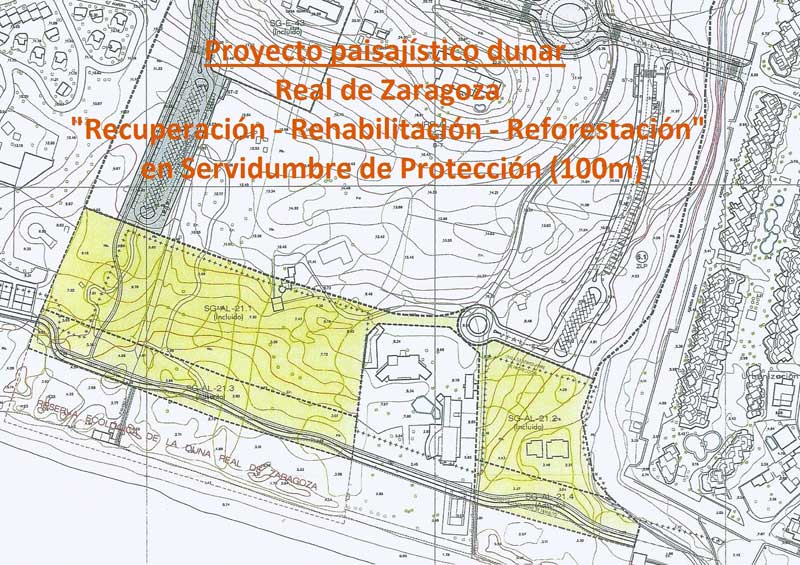 Mohinani-Platinum, an investment group based in Hong Kong has been in positive negotiations with our Association concerning  the perservation of the different dune systems on the land involved. This preservation and the project concerning the construction in 2019 of an outstanding G; 5* Hotel and Resort was presented at a press conference.
This is great news for Pro Dunas. It was publicly stated that "the regeneration of the dune system will be of added value to the future Resort Hotel, as the surrounding natural environment is a luxury and we intend to improve and integrate it into the landscape of the Resort". They will count on, at all times, with the advice and know-how of the Pro Dunas Association.
We can state, with great satisfaction that:
The entire dune system contained in the Right of Protection (100m) between the Ciudad Sindical and the Real de Zaragoza stream will be actively recovered, rehabilitated and reforested with indigenous vegetation.
There will be no construction in this dune area!
Our Association will be on the supervising team, which gives us tremendous satisfaction.
In the same manner the dune system, which is already protected by the Ecological Reserve all along the beach will be respected and it will be enhanced by extending the coastal boardwalk.
We would like to express our thanks to the excellent team of the Mohinani-Platinum Group which at all times was open to the advice and concerns of our Association.
This sensitivity to the environment and "Marbella's Natural Values" shows that urban developments can exist in harmony with nature.
Do you want to receive our newsletter?
Do you want to become a member or be our friend of the dunes?
Asociación ProDunas Marbella
The Association works tirelessly for the defence and preservation of the unique ecosystems that survive in the natural sand dune environments in the Province of Málaga; promotes the protection of native flora and small wildlife; promotes recovery, rehabilitation and conservation of interesting biodiversity of sand dunes areas in the municipality of Marbella.