PRESENTATION AND PLACEMENT OF 3 ILLUSTRATIVE POSTERS IN THE SAND DUNES "LA ADELFA" BAHÍA DE MARBELLA
One more step towards the total protection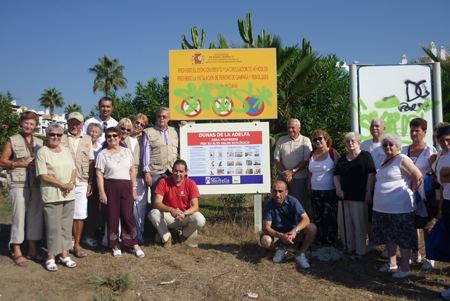 The aim of placing these 3 new posters in the dunes "La Adelfa" is to bring the public closer to the natural wealth there is on the coastline of Marbella. The extense information about the formation of the dunes sistems along the coastline of Marbella and with photographs to illustrate and highlight the fauna and flora at these dunes "La Adelfa", will happily arouse the interest of everyone to partake in the preservation and protection of the sand dunes as well as the conservation of nature.
Do you want to receive our newsletter?
Do you want to become a member or be our friend of the dunes?
Asociación ProDunas Marbella
The Association works tirelessly for the defence and preservation of the unique ecosystems that survive in the natural sand dune environments in the Province of Málaga; promotes the protection of native flora and small wildlife; promotes recovery, rehabilitation and conservation of interesting biodiversity of sand dunes areas in the municipality of Marbella.