ECO-TOURISM ON THE COAST OF MARBELLA
GUIDED TOURS AROUND THE SAND DUNES "LA ADELFA" OF BAHÍA DE MARBELLA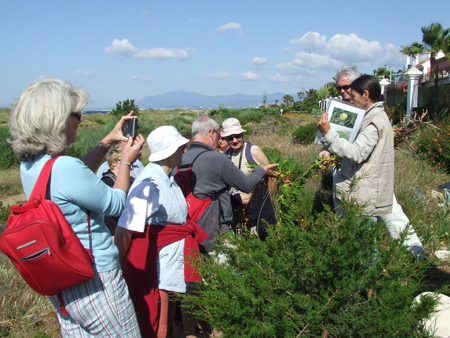 For the second consecutive summer, the collaboration between the Pro-Dunas  Association and the French Tourism Agency, has had once more a resounding success, as it shows that the foreign tourists want to experience new sensations, besides sunshine and beach during their summer holidays in our region.
This new eco- tourism seeks closeness to nature through these meetings with the natural environment in the sand dunes of Marbella. The guided tours have been welcomed with great enthusiasm by the participants; and the didactic introduction to the rich wildlife, fauna and flora, has given them a new impetus, raising their awareness about the need to protect and preserve the last dunes on the coast of Marbella.
Do you want to receive our newsletter?
Do you want to become a member or be our friend of the dunes?
Asociación ProDunas Marbella
The Association works tirelessly for the defence and preservation of the unique ecosystems that survive in the natural sand dune environments in the Province of Málaga; promotes the protection of native flora and small wildlife; promotes recovery, rehabilitation and conservation of interesting biodiversity of sand dunes areas in the municipality of Marbella.