SCHOOL CHILDREN ERADICATE ALIEN SPECIES IN SAND DUNE AREAS IN MARBELLA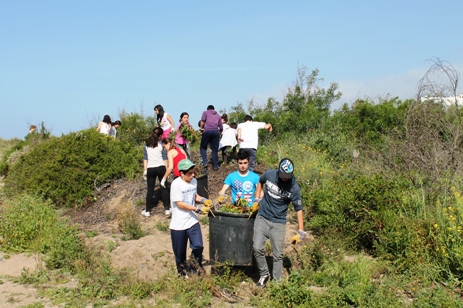 This is the fifth year in which we have dedicated two Days of Eradication of invasive alien species: Highway Ice Plant
(Carpobrotus edulis)
with pupils from secondary education schools and the active participation of technicians from the Department of the Environment of the Hon. Town Hall of Marbella and volunteers of Pro Dunas.
We have selected the sand dunes "El Barronal de la Morena" in El Rosario-Playas Andaluzas, to begin the recovery of this sand dune, which will need several rehabilitation activities because of the proliferation of
the Highway Ice plant.
Over these two days, 85 pupils have proven that with joy and energy considerable success can be achieved. Photographs show the removal of some 5,000 kg of Highway Ice plant.
Local television stations have tracked the progress of this event and the Councilman of the Department for the Environment congratulated the participants for their commendable work.
Do you want to receive our newsletter?
Do you want to become a member or be our friend of the dunes?
Asociación ProDunas Marbella
The Association works tirelessly for the defence and preservation of the unique ecosystems that survive in the natural sand dune environments in the Province of Málaga; promotes the protection of native flora and small wildlife; promotes recovery, rehabilitation and conservation of interesting biodiversity of sand dunes areas in the municipality of Marbella.