REHABILITATION OF "LA ADELFA" BEACH – BAHÍA DE MARBELLA –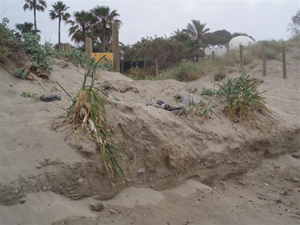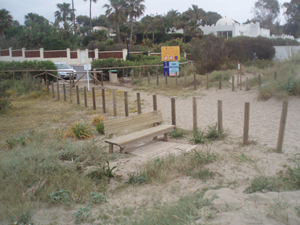 The loss of beach area and sand dunes mass continuous undeterred, unless something is done about it.
We have been forced once more to find a new location for one of the wooden benches, which had tumbled into the sea, as the dune could not withstand any longer the continuous hits of the water.
We are very pleased that the Town Hall of Marbella took heed of the reports we repeatedly filed on this matter, and have realized that solutions must be found urgently, that adequately and definitely address the problem of the huge loss of beach area. Therefore a concrete study of this erosion is being carried out. We trust that the Ministry of the Environment have a favourable reaction to this study, and thus undertake concrete actions to rehabilitate these beaches.
We must not permit the loss of over 2m of sand dunes mass each and every year. At this pace, and without a definite solution of underwater breakwaters, the sand dunes of Bahia de Marbella are in danger of being swallowed by the sea, which we strongly believe must be prevented at all cost.
Do you want to receive our newsletter?
Do you want to become a member or be our friend of the dunes?
Asociación ProDunas Marbella
The Association works tirelessly for the defence and preservation of the unique ecosystems that survive in the natural sand dune environments in the Province of Málaga; promotes the protection of native flora and small wildlife; promotes recovery, rehabilitation and conservation of interesting biodiversity of sand dunes areas in the municipality of Marbella.