2015 – BEGINNING OF DUNE MAINTENANCE IN THE MUNICIPALITY OF MARBELLA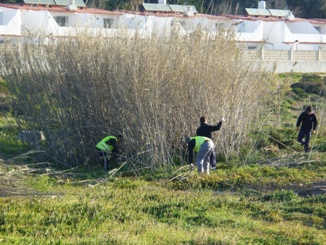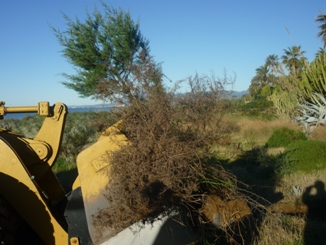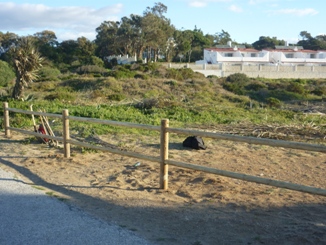 Our commitment to dune maintenance is ongoing. Since the beginning of January and continuing until end of May, together with some of the people enlisted in Marbella Town Hall's "Basic Income" program, we are carrying out various maintenance and eradication programs associated with the invasive alien species (IAS) in the dunes of Marbella.
We have planned many such tasks and the entire dune area will be dealt with as needed. One of the most important jobs is the grubbing out of invasive alien species to stop them spreading. These are: Cane or giant reeds (Arundo donax) and False Mimosa also known as Golden Wattle (Acacia saligna).
Some dune environments will be protected by placing a wooden railing to stop people driving into the dune areas: the Maritime Terrestrial Public Domain (DPMT) take care of this, and by placing wooden stakes on the dune perimeters. This is another of the tasks we have in the pipeline. It is a private initiative by our Association.
The following dune areas are going to benefit from these measures:
Reserva de los Monteros
La Adelfa – Bahía de Marbella
El Barronal – El Rosario/Playas Andaluzas
El Arenal – Playas Andaluzas/El Arenal
Real de Zaragoza – 2º stretch
La Víbora – Las Chapas-Elviria
Las Golondrinas – Las Chapas-Elviria
El Alicate – Alicate Las Chapas
This is a pioneering endeavour and is very challenging. Pro Dunas will be on site every day, in charge of inspecting and supervising. In this way we will achieve a balance with nature here in our dunes.
We are counting on Marbella Town Hall to keep this up, year after year, between winter and spring, before the growing season.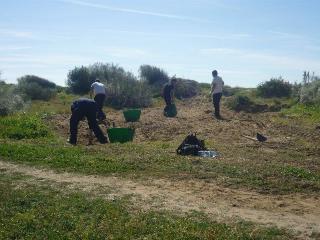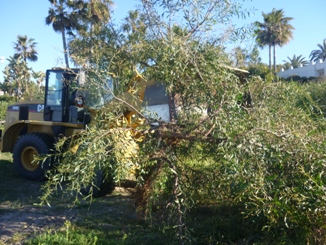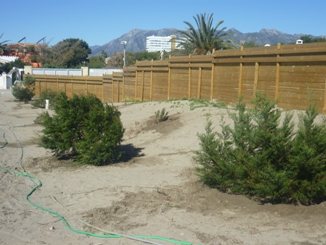 Do you want to receive our newsletter?
Do you want to become a member or be our friend of the dunes?
Asociación ProDunas Marbella
The Association works tirelessly for the defence and preservation of the unique ecosystems that survive in the natural sand dune environments in the Province of Málaga; promotes the protection of native flora and small wildlife; promotes recovery, rehabilitation and conservation of interesting biodiversity of sand dunes areas in the municipality of Marbella.