ACTION DAY ON THE COAST

AWARENESS CAMPAIGN FOR THE CONSERVATION OF THE SHORELINE AND THE SAND DUNES AREA "LA VÍBORA" – ELVIRIA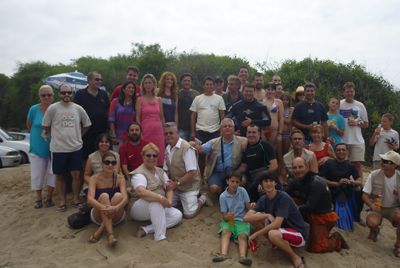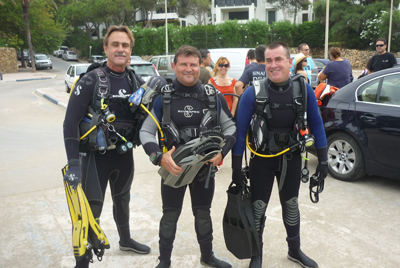 Saturday, the 25th of June 2011
We thank all the participants and volunteers who contributed to the achievements of this successful Action Day!
24 AUAS divers (University Association for Underwater Activities)
5 GEAS (Underwater Specialist Group) of the "Guardia Civil"
2 members of "Civil Protection"
1 Inspector of the Environment of the "Junta de Andalucía" (Regional Government)
1 Representative of "Aula del Mar"
2 Technicians from the Department for the Environment of the Hon. Town Hall of Marbella.
39 Volunteers from the following Associations: PRO DUNAS, Marbella –
AUAS, Malaga – BENALMARE, Benalmádena – MALAGA
 SURFINGCLUB, Málaga – ASOCIACIÓN MERIDIANO, Rincón 
de la Victoria and other who joined us spontaneously.
Summary of Actions:
We eradicated close to 1.800 kg of Highway Ice plant
We collected close to 3 kg cigarette butts and plastic bags
The dives of the divers were cancelled due to rough seas.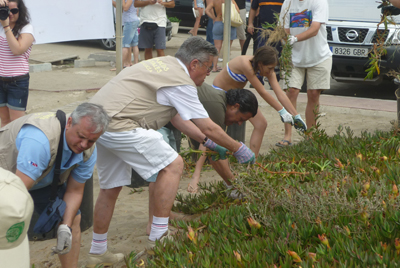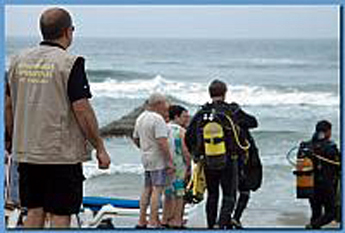 Do you want to receive our Newsletter?
Do you want to become a member or be our friend of the dunes?
Asociación ProDunas Marbella
The Association works tirelessly for the defence and preservation of the unique ecosystems that survive in the natural sand dune environments in the Province of Málaga; promotes the protection of native flora and small wildlife; promotes recovery, rehabilitation and conservation of interesting biodiversity of sand dunes areas in the municipality of Marbella.