RESOLUTION TO BAN THE TRAPPING OF FRINGILIDAE BIRDS THROUGH THE TERRITORY WITH SAND DUNES OF THE MUNICIPALITY OF MARBELLA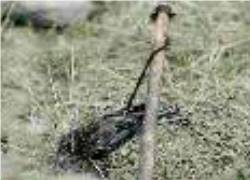 On 15
th
May, 2008 we have made a new plea to the Authorities of the Department of the Environment of the Andalusian Government,
not to issue any licences
for the trapping of wild Birds, in the sand dunes areas of the Municipality of Marbella, widening the inspected area from: Alicate – Costabello – Real de Zaragoza – Tiempo Libre to Elviria.
With a new Rule Resolution, we aim to re-establishing the now very fragile balance there is in fauna of the sand dunes.
Do you want to receive our newsletter?
Do you want to become a member or be our friend of the dunes?
Asociación ProDunas Marbella
The Association works tirelessly for the defence and preservation of the unique ecosystems that survive in the natural sand dune environments in the Province of Málaga; promotes the protection of native flora and small wildlife; promotes recovery, rehabilitation and conservation of interesting biodiversity of sand dunes areas in the municipality of Marbella.