7TH OF JULY – DAY OF ACTION ON THE COAST – MARBELLA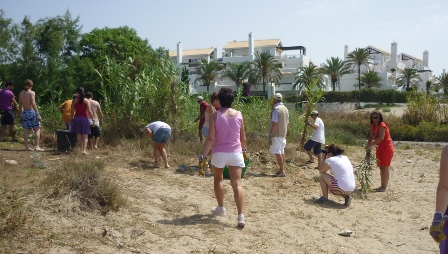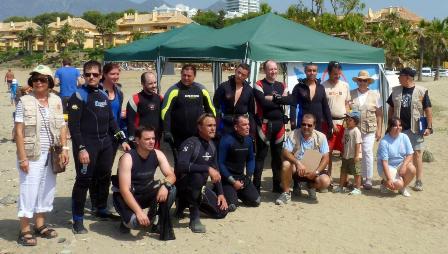 In compliance with the Andalusian Volunteer program, this year's event was held on the magnificent beach of Río Real-Torre Real to bring closer to the citizens as well as the tourists spending their holidays in the Municipality of Marbella, the different forms aimed at raising the awareness of all beach users, to help keeping clean
the beaches of the Municipality.
Around 50 collaborators and volunteers have contributed to the success of a new edition of "Day of Action on the Coast" through their attendance and work. A large group of divers from the AUAS Association, Malaga (University Association of Underwater Activities) have inspected the seabed and can testify to the absence of litter. Regrettably the search for prairies of Posidonia seagrass was fruitless because of the major degradation of the seabed caused by trawling in the area. The MERIDIANO Associations from Rincón de la Victoria and KAPITAN PLANETA, as well as volunteers have eradicated 1,500 kg of the alien invasive plant Highway Ice Plant (Carpobrotus edulis), and reeds.
The event was attended by the Hon. Town Hall of Marbella, with the active participation of the head of the Department of the Environment and environmental education technicians. The presence of the Head of the Deputy Mayor's Office of Las Chapas and of an expert marine biologist of Aula del Mar, Malaga, conferred fair value on these relevant conservation works of Marbella's seashore.
Pro Dunas express once more their thankfulness for the broad acceptance and cooperation of all participants.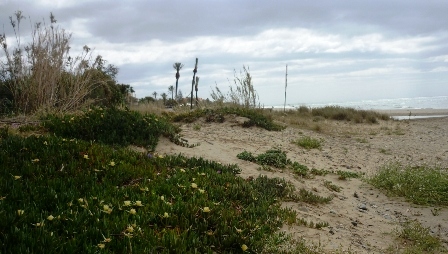 Do you want to receive our newsletter?
Do you want to become a member or be our friend of the dunes?
Asociación ProDunas Marbella
The Association works tirelessly for the defence and preservation of the unique ecosystems that survive in the natural sand dune environments in the Province of Málaga; promotes the protection of native flora and small wildlife; promotes recovery, rehabilitation and conservation of interesting biodiversity of sand dunes areas in the municipality of Marbella.