NEEDFUL ANNUAL MAINTENANCE IN THE SAND DUNES AREAS OF THE MUNICIPALITY OF MARBELLA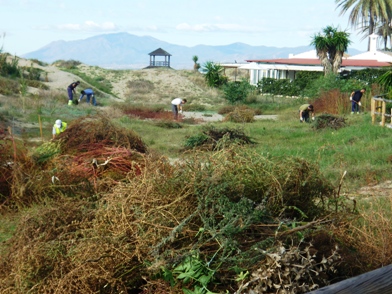 We are getting there
! For the first time, and after much paperwork, begging and petitioning, the Hon. Town Hall of Marbella provided a team of workmen to perform maintenance and cleaning work on the sand dunes
"La Víbora"
in Elviria.
So far, our Association asked teams of gardeners to carry out eradication work of Willow Acacia, and reeds, both in the sand dunes "La Adelfa" and in the sand dunes "La Víbora".
The next sand dune to undergo a similar maintenance work, with a team of workers, is "La Adelfa" in Bahía de Marbella. As it is an established dune, the work will be aimed at grubbing the reeds and Willow acacia along 1 km of sand dunes.
The Department of the Environment convened a press conference at the foot of the sand dunes "La Víbora" to highlight the excellent work that has been done, and Pro Dunas publicly congratulated the proven effort of the Town Hall of Marbella.
Do you want to receive our newsletter?
Do you want to become a member or be our friend of the dunes?
Asociación ProDunas Marbella
The Association works tirelessly for the defence and preservation of the unique ecosystems that survive in the natural sand dune environments in the Province of Málaga; promotes the protection of native flora and small wildlife; promotes recovery, rehabilitation and conservation of interesting biodiversity of sand dunes areas in the municipality of Marbella.