THE PRO DUNAS ASSOCIATION IS AWARDED WITH THE ENVIRONMENT PRIZE ANDALUCIA 2012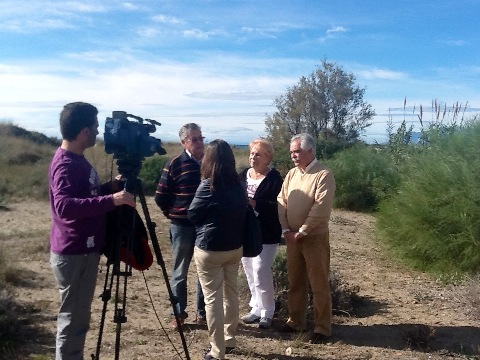 The seventeenth edition of the environment prizes that the andalusian government awards annually, has been awarded this year to our
Association Pro Dunas
in the modality of "
Natural Values of Andalucia
".
The jury which awards the prizes have acknowledged the continuing efforts of our non–profit Association, appreciating the different annual performances, highlighted by the multiple projects and actions related to the preservation, protection and maintenance of the dune areas in the Municipality of Marbella since 2004.
The granting of this award is the culmination of many years of struggle and unconditional labour and it represents the public acknowledgement to a team of volunteers who spend many hours of their time selflessly, because they believe in projects that impact on the common good of all citizens. With their solidary cooperation they are effectively part of the Association's initiatives through its driving motto:
Working ceaselessly in defence of the unique ecosystems in natural environments and sand dunes areas, their native flora and fauna.
Promote the protection, preservation, restoration and rehabilitation of the dune areas.
Raise public and authorities awareness to increase understanding on the need to safeguard the natural wealth and heritage in the scope of the sea and the coastline of the province of Malaga.
We strongly believe that the environmental initiatives can promote the transformation of society through awareness workshops and outreach, as well as a respectful behavour and protection of nature, with the help of the younger generation in participatory programmes.
This award helps our Association's commitment to remain firm in the preservation of the last dune areas in the Municipality of Marbella. To this end, we will continue to count on the good will and support of all Administrations involved as well as the Office of the Environment of the hon. Town Hall of Marbella, for the successful completion of all launched projects and currently on waiting list.
Do you want to receive our newsletter?
Do you want to become a member or be our friend of the dunes?
Asociación ProDunas Marbella
The Association works tirelessly for the defence and preservation of the unique ecosystems that survive in the natural sand dune environments in the Province of Málaga; promotes the protection of native flora and small wildlife; promotes recovery, rehabilitation and conservation of interesting biodiversity of sand dunes areas in the municipality of Marbella.