SEA TURTLE "ADELFA" HAS BEEN FREED
36º38.3702'N – 004º23.9557'W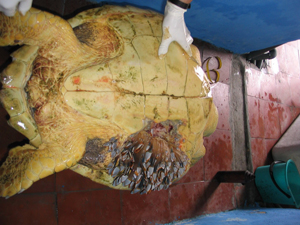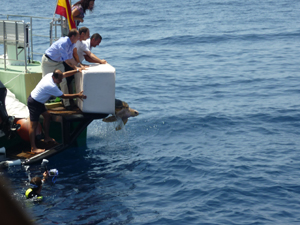 Four long years have been necessary for the sea turtle (Caretta Caretta turtle), named "Adelfa" by the Association Pro Dunas  in honour of the place where she had been found by a pleasure boat, close to the beach "La Adelfa" of Bahía de Marbella in Marbella and rescued from a certain death, to have been given the
"green light"
by the veterinaries of the "Aula del Mar' in Malaga to be released back at sea on the 23
rd
of July, together with another 4 turtles.
Thanks to the great professionalism and daily dedication at the hospital of Aula del Mar  (CREMA) "Adelfa" has recovered from the major injury sustained in the shell, at the time presenting a huge fracture with bone loss, probably caused by a shark. Thanks to a tamponage with a high concentration of epibionts, and lepas sp (goose barnacles), she survived the impact of the bite.
We would like to thank the veterinaries team for the painstaking intensive care extended to "our" Adelfa, which, thanks to the care received during these long months, has grown new plastron. With a lovely weight of 76 kg (4 years ago she was barely 32 kg) she has found again the way to her natural habitat – the sea. This important event, the leading of the turtles to their freedom, has been attended both by the Minister of the Environment of the Junta de Andalucía, Mr. José Juan Diaz Trillo as well as the Provincial Delegate of the Ministry of the Environment, Mrs. Remedios Martel Gómez and the directors and veterinarians of the Aula del Mar, and members of the Association Pro Dunas . TV cameras and the press have been able to attend this event, at sea.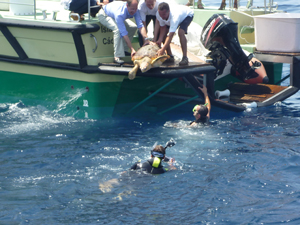 Do you want to receive our newsletter?
Do you want to become a member or be our friend of the dunes?
Asociación ProDunas Marbella
The Association works tirelessly for the defence and preservation of the unique ecosystems that survive in the natural sand dune environments in the Province of Málaga; promotes the protection of native flora and small wildlife; promotes recovery, rehabilitation and conservation of interesting biodiversity of sand dunes areas in the municipality of Marbella.