TRANSFER OF POWERS FOR COASTAL MATTERS TO THE GOVERNMENT OF ANDALUSIA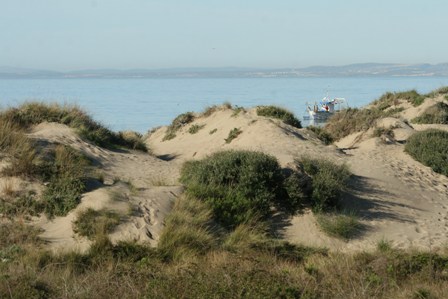 On the 1st of April 2011 the Central Government will transfer the powers for the management of the coastal areas of Andalusia to the Regional Government of Andalusia. These new responsibilities assigned to the regional government, will entail, among others, the direct intervention on the beach restaurants on the Costa del Sol.
We are deeply concerned that this transfer of powers could lead, once more, to abuses by the Regional Government of Andalusia to establish a larger number of beach restaurants, both in the Maritime and Terrestrial Public Domain (DPMT) and the Protection Easement, with the excuse of it being essential for tourism on the Costa del Sol. Therefore, new authorizations would cause the loss of more dunes areas on the andalusian coast.
Moved by this deep concern, several letters have been addressed to all the relevant authorities urging the Andalusian Regional Government to respect the sand dune with special mention about our efforts as an Association that started back in 2004 for the defence of the sand dune area "La Adelfa" in Bahia de Marbella.
At the time, this unique site that was the "target" of strong financial interests that were lobbying for the approval of licenses for 3 beach restaurants and a Beach Club with swimming pools and restaurant.
Long years of countless negotiations were necessary to convince the various authorities, that protection of nature also attracts high quality tourism and particularly eco-tourism, thus creating wealth for the villages and towns and therefore new jobs.
We therefore demand that the few remaining sand dunes areas in the Costa del Sol must be protected against attempts to give "carte blanche" for new licences or concessions by the relevant authority.
We won't let go to waste all our achievements and past efforts to protect this!
Do you want to receive our newsletter?
Do you want to become a member or be our friend of the dunes?
Asociación ProDunas Marbella
The Association works tirelessly for the defence and preservation of the unique ecosystems that survive in the natural sand dune environments in the Province of Málaga; promotes the protection of native flora and small wildlife; promotes recovery, rehabilitation and conservation of interesting biodiversity of sand dunes areas in the municipality of Marbella.