Sea Turtle Nest Monitoring and Custody Sessions 2023
3 Days of Nerves and Excitement August 2023
EXCITING RESULTS ON THE MISTRAL BEACH IN NUEVA ANDALUCÍA!
The waiting is over. On the Mistral Beach in Nueva Andalucía the devoted vigilance of ProDunas Marbella and its Volunteer group has been rewarded. For 53 days and nights 247 volunteers mounted guard over the sea turtle (Caretta caretta) nest, making sure of a safe environment for the unborn hatchlings. And the results are incredible! Of 69 eggs, 58 have hatched successfully, an incredible 84.06% success rate!
8 of the 9 eggs that were transferred to the BioPark in Fuengirola hatched shortly afterwards. On the Mistral Beach, 31 turtles emerged the first night, and another 20 during the second day, highlighting the vitality of these small creatures. The CEGMA Veterinary Team then dug out the rest of the nest, revealing surprising data: 8 unfertilized eggs and 1 egg that did not reach term.
This exciting journey is not over yet! It continues at the Center for Studies and Management of the Marine Environment (CEGMA) in Algeciras where the Caretta caretta sea turtles will begin their development until they weight about 1 kg. Then we will bring them back to the Mistral Beach and release them there, on the same beach where they were born. This is crucial for 2 reasons: to ensure their life cycle and to preserve our marine biodiversity.
We are proud to celebrate the successful birth of these sea turtles, the result of the commitment of ProDunas Marbella and its volunteers. These efforts not only ensure the well-being of these creatures, but they also contribute to the preservation of an iconic species that brings front and center the importance of caring for our oceans and beaches.
We will continue working together for a sustainable environmental future in Marbella!

THURSDAY, 31ST OF AUGUST 2023  – THE CUSTOM OF GOING TO THE NEST
Wednesday, 30TH OF AUGUST 2023 – Nest Exhumation
TUESDAY, 29TH OF AUGUST  2023 – 20 LOGGERHEAD TURTLES (Caretta caretta)
MONDAY, 28th OF AUGUST 2023 – 31 LOGGERHEAD TURTLES (Caretta caretta)
Volunteer Days
July and August 2023
THE JOURNEY IN LA PLAYA MISTRAL – A RECORD FOR THE SEA TURTLES
We spent the night quite well and in good company, and we had agreed among some volunteers (Silvia and Vicenta) to spend the entire night together. We were very fortunate with the weather; the temperature was very pleasant, and there was hardly any wind. We could see the stars and even had the opportunity to observe some shooting stars from the Perseids. We were outdoors on small folding loungers that we had brought, covered with some blankets and an open sleeping bag with a waterproof layer on top to prevent it from getting too damp. Around 4 in the morning, the humidity became more pronounced, so we sought shelter.
I was surprised by the nighttime activity on the beach—the bustling cleanup of the Mistral Beach sun lounger area. The workers were active practically all night, and we could see their movements thanks to the light from the headlamps they wore.
Throughout the night, sand-cleaning and rubbish-collecting machines also passed by repeatedly. The beach cleaning and beach bar staff were very kind to us. The promenade was quite busy all night, as it was a weekend in summer, with young people returning from parties in Puerto Banús.
Despite how developed the beach is, the night had its own magic…
The sound of the waves was in stereo, on one side and the other of the breakwater.
We stayed awake the whole night.
Before leaving, we watched the sunrise with the 7 o'clock and 8 o'clock shifts.
It was an incredibly magical and unforgettable experience, one that we wholeheartedly invite volunteers to experience.
ENJOY WATCHING THE DAWN ON THE MISTRAL BEACH BESIDE THE SEA TURTLE NEST (Caretta caretta)
María Ángeles, one of our Volunteers took a video that shows the incredible serenity and beauty that can be experienced in this special little nook, where the bustle of people enjoying water sports and tourists in general lives side by side with the turtle nest, which is protected by a double fence.
This is a magical, fascinating moment. We want to share it with all of you. We want to inspire you to join our environmental work and keep putting yourselves down on the list of volunteers. Although there are fewer hours available now, there are still opportunities to be part of this wonderful event.
Don't miss the opportunity to welcome the Sun on a morning like this! Are you ready to witness the magic of sunrise on the Mistral Beach as well as helping to look after our precious sea turtles? Join us and be part of this unique event on the Marbella Coast!
Didactic workshop: a fascinating meeting dealing with the protection of our little sea turtles
Last Thursday we had an enriching and educational experience in our educational workshop on the imposing sea turtles. More than 30 people came to this incredible lecture, listening carefully and sharing their concerns!
We don't want you to miss the next opportunity to learn about and connect with nature. So, on 17th August next at 18:00, we invite you to join us for another fascinating meeting. We can't wait to share more stories and knowledge about our friends from the sea.
Have you ever wondered about the species of turtles that live in the Mediterranean? Or about the fascinating peculiarities of the loggerhead sea turtle? In this workshop we explore these questions and many more. Additionally, we learned about the species of turtles we are caring for in the nest on the Mistral Beach and why the loggerhead turtle chooses to lay its eggs on the same beach where it was born.
What do you know about the life cycle of these wonderful creatures? We discuss their stages and how this connection with their place of origin influences the future generations. But does this mean that we will see their descendants laying their eggs here? We also address the challenges and dangers these turtles face, and how we can work together to protect them. These and other questions were dealt with in the didactic workshop. 
Thank you to everyone who took part in this workshop and to those who continue to support our marine conservation mission. Together, we are having a positive impact on our environment and the lives of these amazing turtles.
JOIN AS A VOLUNTEER TO PROTECT SEA TURTLES!
So far, we have 150 dedicated individuals committed to the surveillance and protection of the nest of the beautiful 𝘊𝘢𝘳𝘦𝘵𝘵𝘢 𝘤𝘢𝘳𝘦𝘵𝘵𝘢 turtles. However, we still need 150 more volunteers to ensure that the nest is monitored 24 hours a day throughout August.
If you're up for it, here are some tips for night shifts:
Make sure to wear warm clothing as nights can be cool and there might be a breeze.
For your comfort and safety, we recommend having a partner with you during night surveillance.
Inside the tents, there's a soft light to create a peaceful atmosphere for your shifts.
We understand that night surveillance can be tiring, but if you feel sleepy, there should always be someone alert. Unfortunately, bringing hammocks to the site is not allowed to ensure that the primary focus is on nest monitoring and custody.
We appreciate your understanding and look forward to having you as a volunteer! Together, we will protect these marvelous sea creatures and contribute to their conservation.
Sign up now and be a part of this important mission for the well-being of our sea turtles!
www.produnas.org
PROTECTING THE TREASURE ON THE MISTRAL BEACH IN NUEVA ANDALUCÍA
In the middle of the hot summer, a treasure is being guarded night and day, thanks to the valiant volunteers, on Playa Mistral: the sea turtle nest (𝘊𝘢𝘳𝘦𝘵𝘵𝘢 𝘤𝘢𝘳𝘦𝘵𝘵𝘢). Despite the high temperatures, these dedicated caretakers have decided to do their best to ensure the safety of these beautiful sea creatures.
From dawn to dusk these brave volunteers stand firm, guarding and monitoring the nest, ready to act if there is any danger. Their commitment is admirable, and their love of nature and wildlife is truly inspiring.
Each egg in that nest represents a promise of life, a future for the turtles yet to be born. By protecting the nest our efforts ensure the preservation of this endangered marine species, helping to maintain the ecological balance of our beloved ecosystem.
Do you want to be part of this wonderful work? Join up as a volunteer. Our website:
https://produnas.org/tortuga-marina-custodia
Remember, every effort, no matter how small, counts and makes a difference. Together we can ensure a more hopeful future for sea turtles and all the wonders that nature has to offer. We intend to protect and take excellent care of the Playa Mistral nest. However, we still need more registrations, especially for the night shifts.
Why don't you try this unique experience?
GUIDELINE FOR LOOKING AFTER THE SEA TURTLE NEST ON THE MISTRAL BEACH
Dear Volunteers and Supporters,
The surveillance chain is already organised. The nest is set up and ready for the day the eggs hatch out. It has taken quite some time to get everything ready for Mother Nature to do her job without human beings getting too involved.
The Authorities may ask you for identification. We will send each volunteer an accreditation card that you can produce if so requested.
If you have any queries, you can contact us on 609 600 706 at any time – 24/7.
The 𝐂𝐡𝐢𝐫𝐢𝐧𝐠𝐮𝐢𝐭𝐨 𝐌𝐢𝐬𝐭𝐫𝐚𝐥 will make drinks available for all volunteers at 𝟏 𝐄𝐮𝐫𝐨. If necessary, show them your  Volunteer Accreditation.Card
The toilets are located to the right hand side of Mistral beach and they are accessible 24 hours a day.
We have arranged for the Volunteers to have 𝟏 parking place per car, beside the Hotel Guadalpín. These places (4) will only be available for volunteers while they are on their allotted shift. Make sure your accreditation is clearly visible in your car.
IMPORTANT:
We need a lot of volunteers to register so the 24 hours can be covered until the eggs hatch out.
Here is the link to our website where you can sign up:
https://produnas.org/tortuga-marina-custodia
The electronic system needs you to repeat your request as many times as you want to be present. In other words, if you want to be there for 3 hours, you must register 3 times.
It is up to each volunteer to make sure that no unauthorised person gets near the nest! Curious sightseers should be kept at a safe distance!
Pets are not allowed during your shifts. This is an important point because dogs are very curious and have a good sense of smell. This could cause problems.
Susana at ProDunas Marbella (𝟔𝟎𝟗 𝟔𝟎𝟎 𝟕𝟎𝟔) is on call 24/7.
We will keep you up to date.
Our thanks to all the volunteers who are taking part.
VOLUNTEERING DAY
LOOKING AFTER THE SEA TURTLE NEST 2023
WE NEED YOU and URGE YOU TO TAKE PART as a Volunteer in looking after and ensuring the safety of the nest where a Loggerhead Sea Turtle (Caretta caretta) has laid 69 Eggs. The nest can be found on the Mistral beach, in front of the Hotel Guadalpín-Puerto Banús and Mistral Chiringuito.
ProDunas Marbella is part of this custody and surveillance program. We have received the appropriate Authorisation from the Junta de Andalucía. As an essential rule, we must observe good practices at all times and comply with the guidelines of the Junta de Andalucía.
Volunteers are coming forward enthusiastically but we still need more registrations.
Thank you in advance for taking part!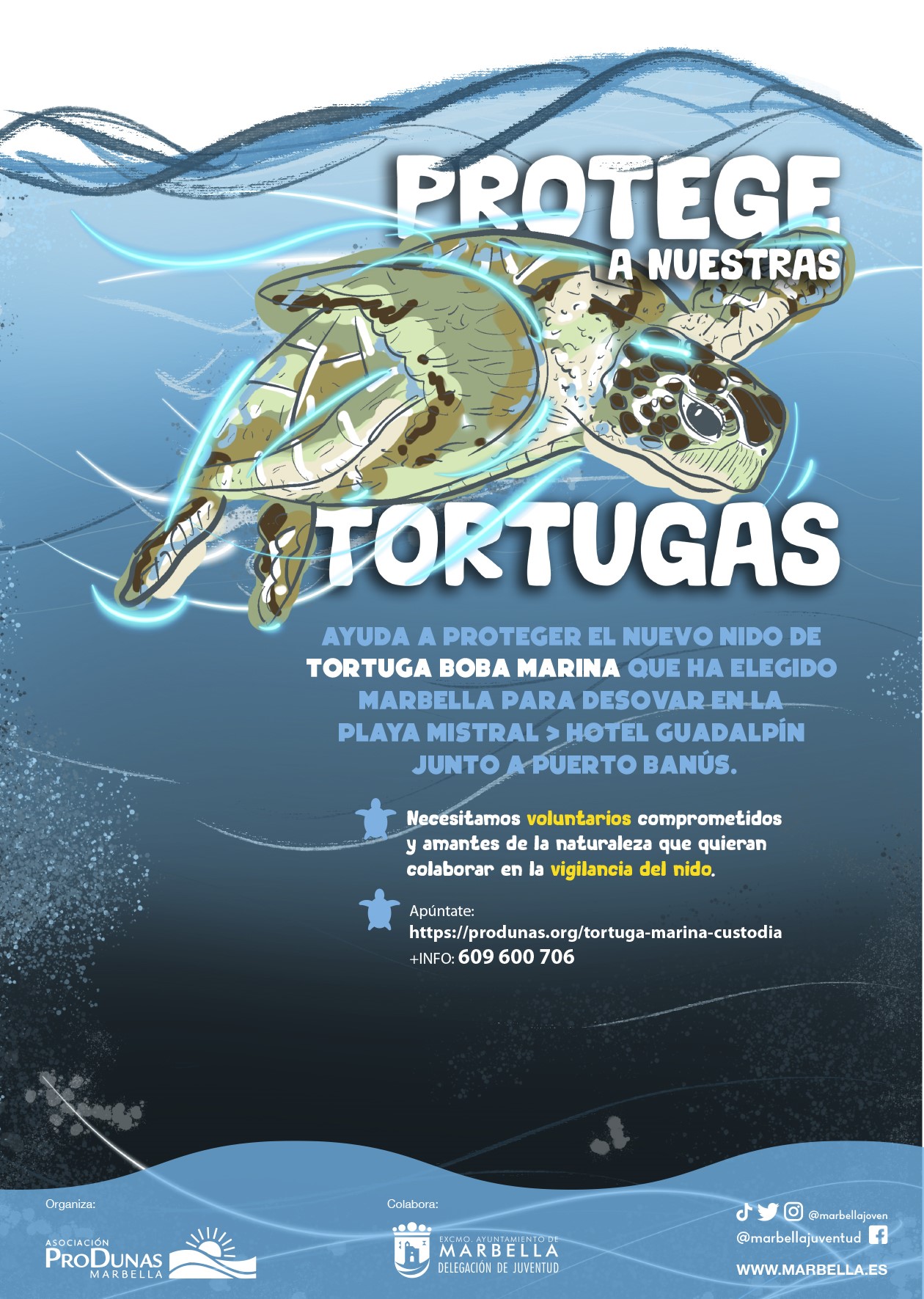 8 JULY 2023 – A LOGGERHEAD SEA TURTLE NEST APPEARS (Caretta caretta) 
Do you want to receive our Newsletter?
Do you want to become a member or be our friend of the dunes?
Asociación ProDunas Marbella
The Association works tirelessly for the defence and preservation of the unique ecosystems that survive in the natural sand dune environments in the Province of Málaga; promotes the protection of native flora and small wildlife; promotes recovery, rehabilitation and conservation of interesting biodiversity of sand dunes areas in the municipality of Marbella.