5 MONTHS OF HARD WORK IN THE DUNES OF MARBELLA
Pro Dunas has fulfilled the mandate given to it by Marbella Town Hall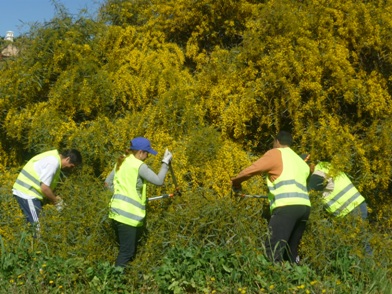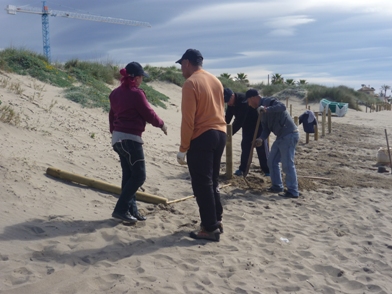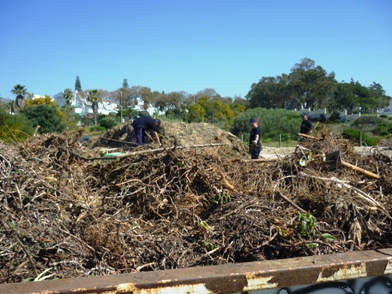 For more than 100 working days the Officers of our Association have accompanied a group of 4 workers from the ranks of the long-term unemployed who had been assigned to us to help with the hard work of effective dune maintenance.
The statistical data we can vouch for is that the following was deleted:
566m³ root of invasive alien species (IAS)
filling a total of 39 tanks of a size used specifically for vegetable waste.
Pro Dunas devised a study program to be carried out in the different dune areas:
– Rehabilitation of the "Reserva de los Monteros" dune area in preparation for future pedestrian board walks.
– Repairing of the wooden rails on the "La Vibora" dunes area.
– Setting up wooden stakes interconnected with sisal rope on the perimeter of the "La Víbora" and "El Arenal" dune areas.
– Burial of an irrigation pipe in the "El Arenal" dune area.
– Upgrading of the pedestrian accesses (4) to the beach in the "El Víbora" dune area.
– Grubbing out of Reeds and monitoring for resprouting in several dune areas.
– Providing assistance to the machine operators who were grubbing out false Mimosa and Cane.
The monitoring and direct assistance from Pro Dunas has enabled the operators to acquire basic knowledge of:
The correct way to grub out at root level the invasive alien species.
The management of the most common tools used in working in the friable dune soil.
The richness of the native flora and small fauna in the dune environment, etc.etc
Working daily as a team has guaranteed fruitful results. Mutual respect, cordiality, friendship and good humor have made them a strong and united team in the face of tough and demanding manual labour.
Do you want to receive our newsletter?
Do you want to become a member or be our friend of the dunes?
Asociación ProDunas Marbella
The Association works tirelessly for the defence and preservation of the unique ecosystems that survive in the natural sand dune environments in the Province of Málaga; promotes the protection of native flora and small wildlife; promotes recovery, rehabilitation and conservation of interesting biodiversity of sand dunes areas in the municipality of Marbella.