WOODEN STAKES IN THE DUNES  AREA OF BAHÍA DE MARBELLA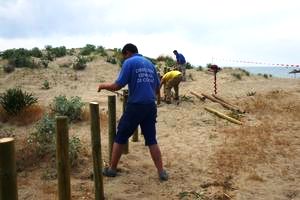 The department for Demarcation of Coastline in cooperation with the Regional Ministry for the Environment have installed again a
line of
wooden stakes
in the dunes area, in order to prevent the circulation of motor vehicles and quads
inside the dunes area
of Bahia de Marbella. We have submitted a request to declare this dunes area as:
"Natural Monument – Bahía de Marbella"
This initiative is made possible by the support from:
The Regional Ministry of the Environment, Department of Demarcation of the Coastline, and the Town Hall of Marbella.
We would appreciate it if these measures of protection are respected, so the indigenous flora may thrive and increase their habitat year by year. Its natural growth is an invaluable asset for this dunes area and it must be protected and preserved by all of us.
– We thank you beforehand for your cooperation –
Do you want to receive our newsletter?
Do you want to become a member or be our friend of the dunes?
Asociación ProDunas Marbella
The Association works tirelessly for the defence and preservation of the unique ecosystems that survive in the natural sand dune environments in the Province of Málaga; promotes the protection of native flora and small wildlife; promotes recovery, rehabilitation and conservation of interesting biodiversity of sand dunes areas in the municipality of Marbella.