The sea is moving in steadily!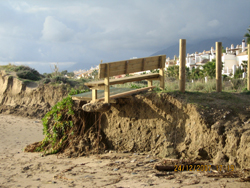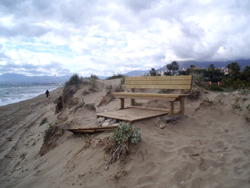 The appropriate Administrations must find an urgent solution to the beach narrowing and beach loss as well as loss of dunes area that is going on year after year, along the costal line, particularly in the area of Los Monteros and Bahia de Marbella.
We have submitted a formal complaint with a report to the Regional Office for the Environment – Demarcation of the Coastline, as well as to the department of the Environment of the Town Hall of Marbella, in the hope that our repeated complaints on this relevant and regrettable phenomenon will finally be heeded.
The photographs speak for themselves!
Do you want to receive our newsletter?
Do you want to become a member or be our friend of the dunes?
Asociación ProDunas Marbella
The Association works tirelessly for the defence and preservation of the unique ecosystems that survive in the natural sand dune environments in the Province of Málaga; promotes the protection of native flora and small wildlife; promotes recovery, rehabilitation and conservation of interesting biodiversity of sand dunes areas in the municipality of Marbella.