GRAFFITI ON THE INFORMATION BOARDS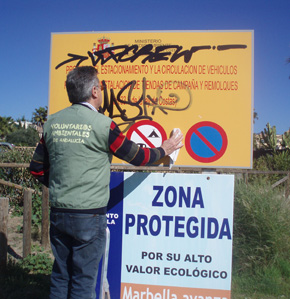 On a regular bases, the members of our Association have to perform the unpleasant task of removing the Graffiti painted on the information Boards that are located in the dunes of Bahia de Marbella.
Much to our regret the information Boards of the Association have to be replaced regularly because of the irreparable damage they suffer when removing the paint. We denounce these acts of vandalism, which are nothing but the useless expression of boredom of some.
We wonder:  is it possible to raise awareness among those that carry out these graffiti on the boards or those that tear out plants?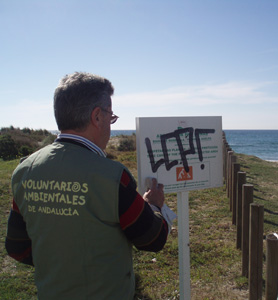 Do you want to receive our newsletter?
Do you want to become a member or be our friend of the dunes?
Asociación ProDunas Marbella
The Association works tirelessly for the defence and preservation of the unique ecosystems that survive in the natural sand dune environments in the Province of Málaga; promotes the protection of native flora and small wildlife; promotes recovery, rehabilitation and conservation of interesting biodiversity of sand dunes areas in the municipality of Marbella.